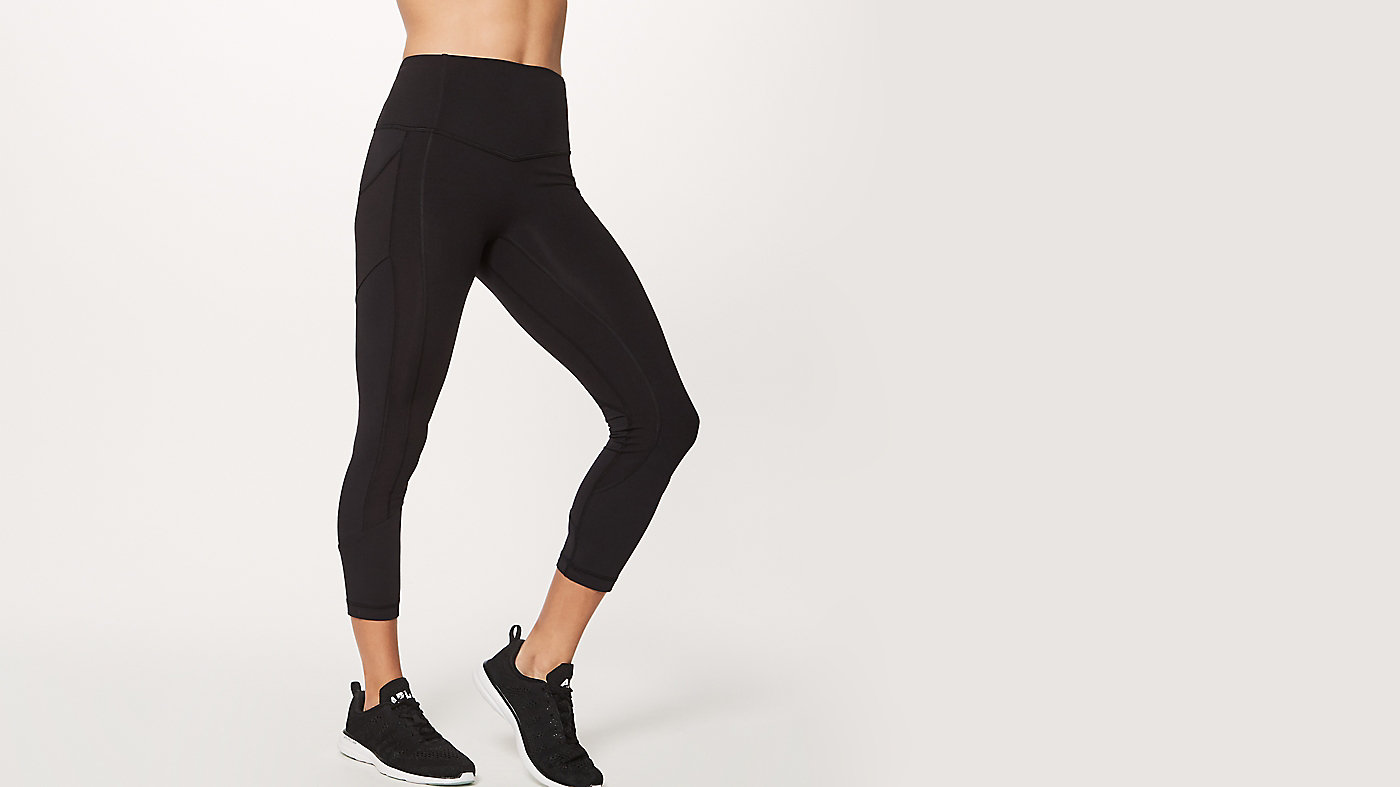 ---
lycra®
Added Lycra® fibre for stretch and shape retention
---
no front seam
Keeps camel toe in check
---
held-in sensation
Provides support to your key muscle groups—strategically placed zoning keeps you feeling secure through your abs, hips, bum and thighs
---
Reflectivity
Flip up the cuffs to expose reflective details
---
waistband pocket
Stash your essentials in the waistband pocket

All The Right Places Crop II
is rated out of
5
by
55
.
Rated

3

out of

5
by
Rache
from
Not good for cardio
I Like the look and feel of these pants. The pockets are seemingly great and the seams are in all the right places (and none of the wrong ones - ie no camel toe ;)) BUT if i run in these pants they fall down so the crutch ends up half way down my thighs which is very annoying and distracting especially considering the cost of these pants. These pants are only good for strength exercises or as "athlesiure" wear- not for cardio and even though the pockets are great the slightest weight in them causes the pants to fall down at even quicker intervals.
Date published: 2017-07-28
Rated

4

out of

5
by
kayd
from
Great Tights Although.....
I LOVE THESE TIGHTS! They are my favourite and really are all the right places. Although I wish the educators in store had recommended to go down a size as they have given a little and with no drawstring they slip down not only at my waist but around my ankles while i run and train which is a shame :( will need to go smaller next time!
Date published: 2017-07-27
Rated

5

out of

5
by
JosieM
from
Best tights I have ever owned
These tights are fantastic! I cannot fault them at all. I wear them all the time and am going to buy a second pair because I love them so much. They are high waisted, don't fall down and the fabric is just the right amount of soft/stretchy. High recommend!
Date published: 2017-07-14
Rated

3

out of

5
by
sportyspice27
from
Have to pull them up constantly
I got these tights in exchange for another pair that seams came undone. They are snug, but constantly ride down and I have to pull them up. I teach classes in them and its very frustrating. I was talked into getting these by the sales person, as they are tight and hug your body. Its the complete opposite
Date published: 2017-07-03
Rated

3

out of

5
by
MishyRose
from
Love Hate
I finally made the swap from trackies to leggings and 'All the right places' was my entry into this world. LOVED them and lived in them for about 12 months. The stitching around the pocket then started to come away which made it hard to hold anything in there (understandably) but more importantly they started to fall down during gym sessions. I thought this could of been due to weight loss and perhaps a little wear so I purchased my second pair of these fab tights (product had been slightly improved since my first purchase) BUT from the first gym session these were falling down also even before a wash! I now have to stop multiple times during my workout to pull the crotch up from the floor (exaggeration) but still not ideal. These tights look amazing and feel great when they stay on. Seams are definitely in 'all the right places' but how do you get them to stay up? Reading the reviews now I see I'm not the only one. Lululemon can you fix this problem in my fave tights please!!!!!!
Date published: 2017-06-28
Rated

3

out of

5
by
izzylauren
from
The look without the feel
At first when I tried these leggings on I loved them! They are really 'all the right places', and are comfortable. However, when I went to gym and attempted to train in them, they constantly fall down at the calves and waist, which is a bummer because I have to keep stopping every couple of minutes to pull them up - not ideal!
Date published: 2017-06-02
Rated

2

out of

5
by
Yass
from
Devastatingly Sweaty (part II)
I bought a pair of these in black (and the full pant version in an incredible navy blue) and they are the most comfortable, beautifully designed pants I own...they are also the most unforgiving and mortifying if I forget to pair them with a loooooong T or singlet. They have zero sweat-wicking ability and from the minute I step into the gym I suffer from mortifying sweat patches. Worst of all it takes forever to dry and even though I thought the black would be a safe option, the black dries uneven and patchy and therefore still embarrassingly. I am absolutely a sweaty gym-goer and I understand that others are fortunate enough not to be - but these provide zero dignity for any kind of workout. Heart the pockets though.
Date published: 2017-05-30
Rated

3

out of

5
by
Allthealison
from
When activewear can't keep up
Honestly these are some of the most comfortable pilates and yoga pants I have ever owned. Although, the stitching around the crotch failed a month after buying them resulting in a beyond awkward reformer session!
Date published: 2017-05-29
Rated

2

out of

5
by
phoebs
from
Slightly Disappointed...
These tights are my second pair of Lulu tights (I've already got the full length Wunder Unders and adore them) and considering the price, I am disappointed in the fit and quality of this pair. After completing a gym workout this morning, I got home to realise I had HUGE sweat marks around my crotch and bum... very embarrassing and for $129, I'd expect much better. I love how they look and they are super comfortable but I have never experienced this with tights from other brands. Another thing to note is that they do have a tendency to fall down and require pulling up quite frequently... again, not ideal during a high intensity workout!! Definitely wouldn't repurchase which is a shame considering how lovely they look when you first put them on!
Date published: 2017-05-20
Rated

2

out of

5
by
georgia546
from
great fit but shows sweat marks`
Absolutely loved these tights until I wore them to the gym! I did a medium intensity work out and ended up with big sweat marks around my crotch, looking like I had wet myself. I felt so embarrassed, but also pretty disappointed as I loved everything about these tights up until I noticed the sweat marks.
Date published: 2017-05-05